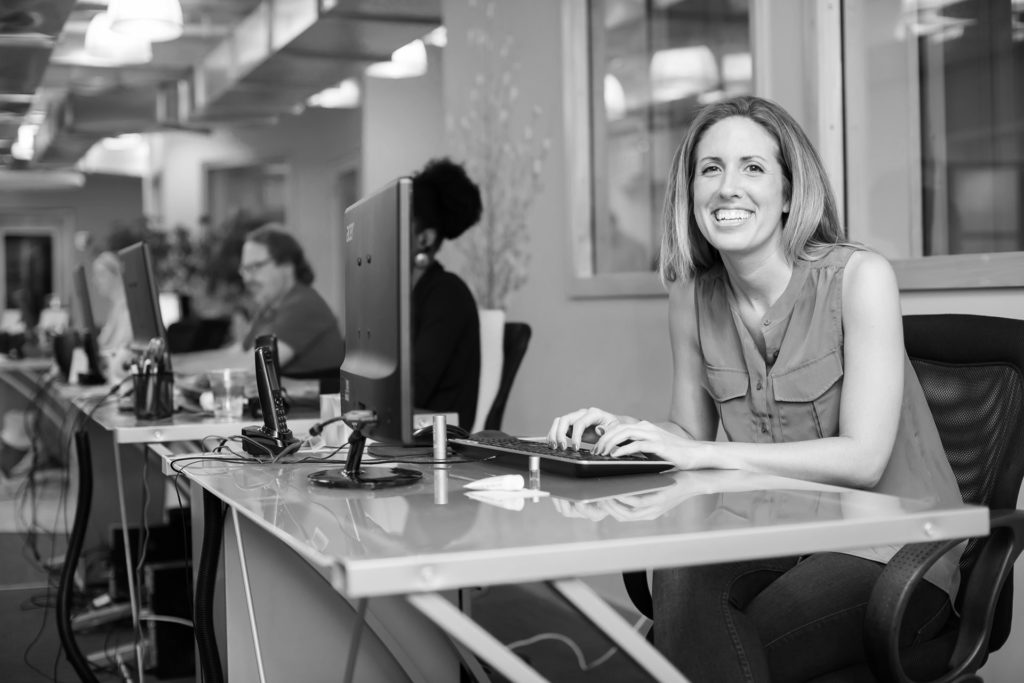 Our Team
The team of professionals at Edge Studio are here to make sure that you get the highest-quality audio recording quickly and built to your specifications every time. We're the ones who are there to ensure that you get what you want, when you want it, so you walk away with incredible voice over. Sound good? Actually, your project will sound great.
David Goldberg
Chief Edge Officer, Voice Director, Audition Expert, Voice Consultant
Locations: In Studio (NYC), Remote (via Zoom)
Specialties: Commercial, Corporate, Documentaries & Film, E-learning, In-Show (Broadcast) Narration, Inspiration & Meditation, Medical & Pharmaceutical, Narration, Promos & Imaging, Telephony & IVR (Interactive Voice Response), Tours
A leading authority on voice-over and Chief Edge Officer of Edge Studio, David Goldberg has cast and directed thousands of voice-over productions. He has also coached innumerable voice actors, from beginners to top working pros and celebrities.
David says, "Although I don't have a golden voice, I guess my ears work pretty well."
Indeed. David's ears are considered the best in the industry.
He's known for an uncanny ability to provide super-quick yet precise direction. Because he sees things from all industry perspectives, many veteran voice actors rely on him as their mentor. David is also one of the most active directors and speakers, frequently illustrating his practical answers with fun anecdotes from his many years of experience.
Soon after founding Edge Studio as a music-recording facility in 1988, David added spoken voice recording to its repertoire. In response to many clients asking him for voice over guidance, David wrote the first edition of the 'Voice Over Performance Guidebook' in 1992.
Since 2000, Edge Studio has focused exclusively on spoken voice, and is now one of the world's premiere voice over facilities.
Clients and agents rely on David Goldberg's ability to pinpoint the right voice actor for their production. Voice actors rely on his ability to help them find their full potential, benefiting from his perception, straight-forwardness, production savvy, and those acute ears.
People and companies that David Goldberg has worked with at Edge Studio include: Nickelodeon, Disney, Pixar, Chrysler, The US Postal Service, Scholastic, IBM, The United Nations, countless radio stations, National Public Radio, ESPN, Discovery, Mel Brooks, Joan Rivers, Eartha Kitt, Tom Brokaw, John Ratzenberger, Denise Austin, Mark Linn-Baker, and scores of leading Broadway and TV performers.
Edge Studio remains one of the country's most acclaimed voice over facilities, known around the world as being the best in the industry for voice over production, casting, and education.
Kendra Baker
Client Account Manager
Kendra Baker graduated with a degree in Communications from West Virginia University and has utilized what she learned about communicating ever since.  Kendra is someone that "sweats the small stuff," which has come in handy in the Production Department. She constantly rechecks details to ensure that projects will run smoothly, on time, and on budget.
She started her career at Edge in the Education Department, working hands-on with new and established voice over actors. This experience has helped her understand and respect voice over from both a client and a talent perspective.
Kendra currently lives in Washington, DC, with her husband.  She was born and raised in a small town below Pittsburgh, PA. She also spent almost eight years in Toronto, so she has a great love for our northern neighbors, just not their winter temperatures. When she is not working, she likes to hang out with family and friends and is obsessed with home design. She loves decorating rooms for herself and others and is constantly switching things around or thinking about her next project.
Laura Murphy
Director of Education
Laura Murphy is Edge Studio's Director of Education. Originally from the Hudson Valley, New York, she's been involved in the New York City entertainment industry since college. She holds a BFA in Acting from The University of the Arts in Philadelphia and has worked in theatre, voice over, and film. Her background in the arts is very diverse; she self-produced and hosted a travel & food-centric YouTube channel, she co-founded a Brooklyn-based photography company, was the Community Manager for Nuva.io, an online group of women in entertainment across the country. There, she managed over 3500 members across various platforms, hosted events, and managed social media.
Laura is also passionate about travel and learning about different cultures. In addition to her entertainment experience, she also taught English as a Foreign Language for 5 years after living in Madrid and completing her TEFL certification there.
Into everything she does, Laura brings her love of people, determination, optimism, and problem-solving skills with enthusiasm. She's always excited to bring her passion for helping people achieve their personal and entertainment-related goals to Edge!
Kevin Schormann
Lead Engineer
Kevin Schormann has always had a passion for sound. Since joining the Edge Team in 2014, he has become a voice over post-production powerhouse, recording and mixing everything from animation to commercials to video games. He's earned a reputation as an incredibly fast, precis, creative, and friendly engineer who's easy to work with.
He began playing guitar at an early age, which led to a 25 year career in the music business.  Early in his music career, he was exposed to numerous recording studios, where he became interested in audio production. 
He attended The Institute of Audio Research and upon graduation, worked at Unique Recording Studios in midtown Manhattan, which gave him the foundation to open Immortal Sound Studios, where he gained years of experience recording, mixing and mastering a wide array of musical genres.
Since being with Edge, Kevin has had the opportunity to work with Chevy Chase, Cameron Diaz, Amy Poehler, Queen Latifa, Danny Glover, F Murray Abraham, Tom Browkaw and many more. 
When not in the control room, you can find Kevin skiing the Pocono mountains, playing his Les Paul guitar, cooking or gaming on Xbox.
Susanne Pinedo
Education Advisor
In 2011, Susanne Pinedo jumped into her car and drove from her hometown of Miami, Florida to have a love affair with NJ/NYC and the relationship is still going strong. She is an actor and writer and obtained a BFA in Theatre from Florida International University. As a former publicist for the theatre and entertainment industry, she has an infinite passion for providing outside-the-box public relations and marketing ideas to other artists. Susanne believes that honesty, ingenuity, and progressive thinking are essential to crafting an effective communication strategy, and she strives to honor this conviction in all of her work. She is very proud to be an Edge Studio Alumna and has taken almost every webinar we offer! Susanne also went through the Two-Demo Program and her Telephony English language demo and her Commercial Spanish Language demo were both produced at Edge Studio. Every day she advises students in reference to training that she herself has undergone and she loves that.
As a voice over artist, some of Susanne Pinedo's clients include Marvel Comics, Audramada Productions,  Eastern Connecticut State University, and Eastway Medical Clinic & Urgent Care. Theatre and film credits include Lola in Ghosts of Bogota by Diana Burbano, the Nurse in a modern adaptation of Romeo & Juliet, Simone in Caplata by Margo Rofe, as part of The Covid Monologues, Carmen in Have to Believe We Are Magic by Sara Guerrero and the short film, Bela Lugosi Meets Edna St. Vincent Millay by Jordan R. Young. She continues to train for theatre and tv/film acting with Producer/Casting Director, Liz Ortiz, and with Edge Studio for voice over, and with Breath of Fire Latina Theatre Ensemble, Gotham Writers, and HOLA for playwriting and creative writing. Susanne's family is originally from Colombia. If you are ever in Miami, she will be happy to recommend restaurants and the best clubs for Salsa dancing on South Beach.
Sara Huber
Director of Finance
One day shy of her eighteenth birthday, Sara Huber made her way across the Hudson River from New Jersey and settled into the place she always knew she was meant to be.  After graduating from NYU with a dual major in Economics and Journalism, Sara began a career in the fashion industry, working alongside a then-unknown designer, learning how to build an empire from the ground up. Through an eclectic resume of other roles, Sara learned the ins and outs of bookkeeping, tax filing, international logistics, operations and how to source just about anything. Replying to a temp ad one day, Sara was sent from the agency directly to meet with Edge Studio Managing Director Andrew Warner on site, then invited back to meet owner and founder David Goldberg the following day. Proving she was meant to be a part of the team, she received a call with an offer just under 50 hours after submitting her resume. Two months later, she became a permanent member of the Edge family.
As perhaps the sole Edge Studio employee without a performance background, the only chance of catching Sara on television will be if she receives an invitation to compete on Jeopardy! Until then, Sara Huber enjoys doing the New York Times crossword puzzle (only on Saturdays) and traveling around the world, from Finland to Fiji to France.
Joshua Wise
Office and Marketing Lead
Joshua Wise hails originally from Massachusetts, where he spent his entire young life cultivating a passion and devotion to the arts. A singer since age three, an actor since age five, and a pianist since age seven, his years of musical theatre (and eventually show choir) and choral training afforded him in-depth vocal training and he soon graduated from Pace University in New York City with a BFA in Acting.
During his time in New York City, Joshua has gone on to music direct and compose for Fringe Festival works, graced the Off-Broadway stage both as a performer and a stagehand, led and directed an improv comedy troupe, and narrated for live theatrical presentations. Outside of New York, Joshua has been a professional musician for the better part of four years, playing the keys and singing all over the northeast in weddings and events, as well as becoming the fourth member of Boston/Providence-based band Left of Love. He also has taught voice, piano, and acting lessons in multiple states and Puerto Rico.
As a voice actor, Joshua has also provided his voice for both live and recorded narration for a number of presentation events, hosted several orientations, English dubbing for foreign language film, and promotional material for coffee houses, music stores, and more. Aside from work and the arts, Joshua's favorite things are spending time with his love, friends, and family, and has begun to develop a real soft spot for cooking.
Alison Taylor
Education Advisor
Alison was born in a beautiful little city in the west called Bountiful, and spent the majority of her formative years singing in-front of her parent's camcorder, reading, swimming, and later traveling. She recently graduated with a BFA in Acting from Brigham Young University, and on a bit of an impulse decided to move with a friend to New York City.
She has a great fascination for voice over in particular and has spent a significant amount of time interviewing voice over actors and researching the voiceover community. She enjoys and has the most experience with stage acting, and is always looking for new things to learn to grow as a performer.
Current goals are as follows:
-Finding a workshop in NY that teaches how to fight with lightsabers.
-Be cast in a production based on any book she has read and liked.
-Learn how to do a cartwheel.
-Voice a character in a show based on her favorite D&D podcast The Adventure Zone.

Alison is adventurous, confident, and principled. She loves to laugh and make others laugh. She has a great affection for travel and has lived in Japan, China, and spent a summer studying abroad in Austria, Budapest, and Prague. She even spent a few semesters studying at a university in Hawaii. She speaks conversational Japanese and a smattering of words in other languages. Her affection for new cultures and languages has worked to her advantage, as she also loves studying dialects. She is a bit of a multifaceted geek, and will always be down to try something new.
Andrew Feliciano
Engineer
Andrew Feliciano has been an audio engineer for more than 10 years. He received a degree in computer science in 2001, but with a background in music, he gravitated towards pro audio and found a home in voice-over. In 2008 he recorded Beau Bridges for the audiobook version of "An Inconvenient Truth", which won a Grammy that year for Best Spoken Word Album. He will finish a graduate degree in business later this year and continues to explore new technology in audio recording and computers. Andrew is an avid rock climber and outdoor enthusiast.
Ashley Adler
Animation & Videogame Voice Director, Voice Actor, & Private Coach
Locations: In Studio (NYC), Remote (via Zoom)
Specialties: Animation, Character, Commercial, E-learning, Jingles & Music, Narration, Promos & Imaging, Video Games
Ashley is SO talented!  A Drama Desk nominated actress, an award winning singer, and a very acclaimed voice actor and voice director.
Her voice can be heard in numerous videogames, animated productions, TV and radio commercials, dubbing foreign films, narrating documentaries, rides in theme parks, audiobooks and voice-matching for numerous celebrities in major feature films.  She works frequently for Marvel, Disney and Pixar and has been the voice of Arco, Honda, Crest, McDonald's, Oreo, Walmart, Oprah Magazine and AT&T, just to name a few.  She can currently be heard as the voice of the Make-A-Wish Foundation, Eliza in Final Fantasy: War of the Visions and as the narrator of Disney Dreamlight Valley.  She's performed Off-Broadway & regionally in musicals and operas at NYC Town Hall, NY City Center, Wolftrap Opera, the Hollywood Bowl, Greek Theatre and has worked frequently with both The New York Gilbert & Sullivan Players and The National Yiddish Theatre.  She also toured the nation with an award-winning one person show about Anne Frank.  She can be heard singing with the bands The Eagle Rock Gospel Singers, Tom Kenny (SpongeBob) & the Hi-Seas, and many others.
She is a graduate of the Acting conservatory at SUNY Purchase and studied voice privately at Manhattan School of Music.  And she began her voiceover training right here, at Edge Studio!
Paul Ketterman
Engineer, Editor
At the age of five Paul Ketterman (who was named after Paul McCartney of the Beatles) memorized Steve Martin's, "A Wild and Crazy Guy" which he would recite in living room performances for family members and neighbors. Thirty years later Paul finally moved to New York City from Hampton, Virginia to pursue his dream of performing comedy. One time he even made twenty dollars doing it. Paul has honed his administration and audio video skills in some pretty diverse venues such as record stores and video stores, editing military training videos, television production for MTV and The Discovery Channel, owning his own UPS store and working for Tory Burch.
Paul Studied Improv at The Upright Citizens Brigade, The PIT and The Annoyance Theaters. When he's not holding down the fort at Edge, he can be found around the city performing with his improv team GLORY HAIM. Paul is also a voracious collector of things. He collects The Incredible Hulk and X-men comics from Marvel Comics and Swamp Thing from DC Comics. He has a VHS collection of over 1000 horror and cult films from companies like Troma, Wizard and Midnight Video. A large vinyl record collection focused on genres like Shoegaze, Punk Rock, Metal and his favorite band The Cure. Paul also has a collection of Ibanez and Fender guitars which he plays poorly.  Paul has a certificate in mindfulness meditation guidance and encourages everyone to learn how to meditate for at least 15 minutes a day as it can greatly reduce depression and anxiety. Paul would also like you to know that he loves tacos, dogs and cats, and podcasts like W*F with Marc Maron and The Last Podcast on the Left. Paul Ketterman lives in the Bronx with his wife who is the film coordinator for Grand Central Terminal and their cat Pumpkinhead.
Siobhán O'Loughlin
VO Community Host, Private Coach
Locations: Remote (via Zoom)
Specialties: Social Media and Branding
Siobhán O'Loughlin is voice actor, performance artist, and social media enthusiast. She graduated from Towson University in Baltimore, Maryland, with a BFA in Acting, and worked with Bread & Puppet Theatre in Vermont as well as The Acting Company in New York City before she hit the road to tour her own performances. Her major hit is called Broken Bone Bathtub, which was featured PBS's Emmy Award Winning Series Immersive.World, and of which she's currently editing the feature length documentary.
She's traveled the world as an artist and arts educator, emphasizing creating community in multiple ways: from intimate audiences of small numbers, to large lectures, group workshops, or stadium performances at Greenbelt Festival in the UK. Her work has been praised by The Houston Chronicle, The San Francisco Examiner, The Stranger, The Minnesota Star Tribune, and The Baltimore Sun. Though she joined the Edge Team due to her experience in arts education, Siobhán believes whole heartedly in always being a student, and was trained in commercial, narration, and animation here at Edge Studio. (She's got some really great demos).
In 2020, Siobhán's work took a whole new form in the digital sphere, where she began running Edge Studio's much beloved 
Ask Me Anything 
sessions, after maintaining her long running Zoom Theatre Series, 
Please Don't Touch the Artist
, which received acclaim from all over, including 
New York Magazine
. She has incorporated this new skill set to also host Edge Studio Mixers as well as the brand new series, Home Studio Show & Tell.