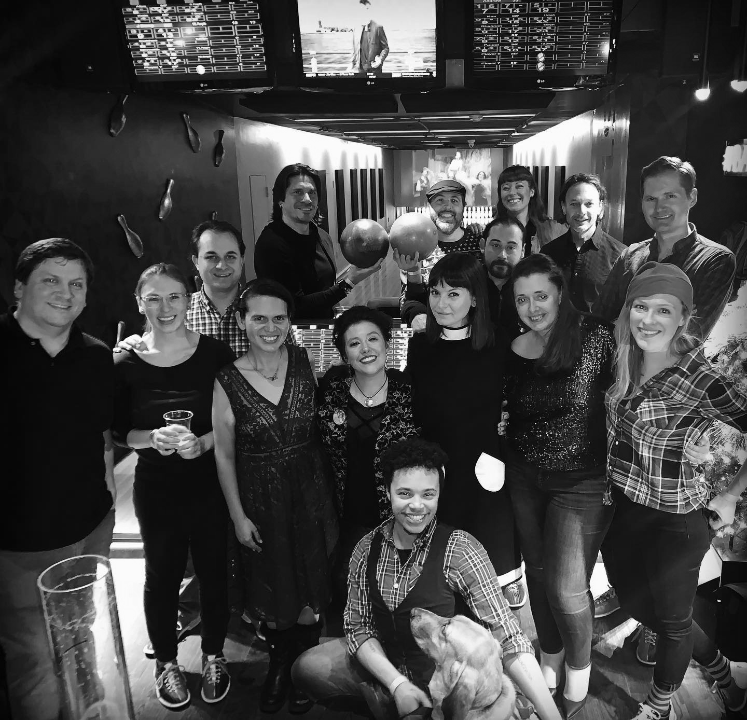 Our Team
We live and breathe virtually every conceivable aspect of the voice over industry, and we have a world-renowned team of voice over experts who oversee each part of your training. This makes it easy for our team to pool resources and create the most wide-ranging education center, with the most successful students.  At Edge, we're always glad to share our knowledge, answer any questions, or take time with you.
Call us: 212-868-EDGE (3343), Weekdays 9am-5pm ET
Email us: training@edgestudio.com
Or stop by: 115 West 45th Street (between 6th and 7th Ave), Floor 8, New York, NY 10036
David Goldberg
Owner and Founder of Edge, Booth Director, Private Coach, Class Instructor, Marketing and Business Coach
Locations: In Studio (NYC), Remote (Skype/Telephone)
Specialties: Commercial, Corporate, Documentaries & Film, E-learning, In-Show (Broadcast) Narration, Inspiration & Meditation, Medical & Pharmaceutical, Narration, Promos & Imaging, Telephony & IVR (Interactive Voice Response), Tours
A leading authority on voice-over and Chief Edge Officer of Edge Studio, David Goldberg has cast and directed thousands of voice-over productions. He has also coached innumerable voice actors, from beginners to top working pros and celebrities.
David says, "Although I don't have a golden voice, I guess my ears work pretty well."
Indeed. David's ears are considered the best in the industry.
He's known for an uncanny ability to provide super-quick yet precise direction. Because he sees things from all industry perspectives, many veteran voice actors rely on him as their mentor. David is also one of the most active directors and speakers, frequently illustrating his practical answers with fun anecdotes from his many years of experience.
Soon after founding Edge Studio as a music-recording facility in 1988, David added spoken voice recording to its repertoire. In response to many clients asking him for voice over guidance, David wrote the first edition of the 'Voice Over Performance Guidebook' in 1992.
Since 2000, Edge Studio has focused exclusively on spoken voice, and is now one of the world's premiere voice over production, casting, and training facilities.
Clients and agents rely on David's ability to pinpoint the right voice actor for their production. Voice actors rely on his ability to help them find their full potential, benefiting from his perception, straight-forwardness, production savvy, and those acute ears.
People and companies that David has worked with at Edge Studio include: Nickelodeon, Disney, Pixar, DaimlerChrysler, The US Postal Service, Scholastic, IBM, The United Nations, countless radio stations, National Public Radio, ESPN, Discovery, Mel Brooks, Joan Rivers, Eartha Kitt, Tom Brokaw, John Ratzenberger, Denise Austin, Mark Linn-Baker, and scores of leading Broadway and TV performers.
Edge Studio remains one of the country's most acclaimed voice over facilities, offering voice over production, casting, and education.
Andrew Warner
Managing Director
A native Midwesterner and graduate of Washington University in St. Louis, Andrew Warner moved to the Big Apple to work in arts and entertainment. He brings all of his skills and experiences to bear as a member of the Edge Studio team. Andrew has produced short films, counseled students and overseen projects at prestigious educational institutions including The Juilliard School and Interlochen Arts Academy. In all his operational responsibilities, his ultimate goal was to give students the tools necessary to becoming successful performing artists. In addition, he has worked at prominent post-production houses like Company 3, where he was a Production Manager working on commercials for a myriad of products including Progressive, Weight Watchers, Dos Equis, and Apple.
In his free time, Andrew is a rather serious film buff, found more often than not at various theatres around the city, basking in the glow of the silver screen. He also has an extensive background in performance, and can be seen on stage with various improvisational comedy teams around NYC. Among his more deliberative creative endeavors, Andrew has written screenplays, short fiction and comedy sketches, and has a degree in Art History & Archaeology.
Andrew Feliciano
Engineer
Andrew Feliciano has been an audio engineer for more than 10 years. He received a degree in computer science in 2001, but with a background in music, he gravitated towards pro audio and found a home in voice-over. In 2008 he recorded Beau Bridges for the audiobook version of "An Inconvenient Truth", which won a Grammy that year for Best Spoken Word Album. He will finish a graduate degree in business later this year and continues to explore new technology in audio recording and computers. Andrew is an avid rock climber and outdoor enthusiast.
Kendra Baker
Education Advisor
Born and raised near Pittsburgh, Pennsylvania, Kendra Baker is a product of WVU where she majored in Communications. Kendra began her career working for several web-based companies where she gained considerable experience and knowledge about the business world, the internet world and technology… while utilizing her communications skills.
Kevin has always had a passion for sound. Since joining the Edge Team, he has become a voice over post-production powerhouse, working on ADR, commercials and audiobooks – earning a reputation as both quick and thorough – a patient and creative engineer who's easy to work with.
Prior to Edge, he attended The Institute of Audio Research. Upon graduation, he worked at Unique Recording Studios. Kevin took this foundation and opened Immortal Sound Studios, where he gained years of experience recording, mixing and mastering a wide array of musical genres.
When not in a control room, Kevin is skiing, traveling, writing and performing in his band. He began playing guitar at an early age, which has led to a successful 20-year career in the music business. He loves not only music, but animals, the New York Giants and boxing. He also contributes to his family's home improvement business, where you'll find him helping out within his local shore community to rebuild after Hurricane Sandy.
Paul Ketterman
Receptionist & Junior Engineer
At the age of five Paul memorized Steve Martin's, "A Wild and Crazy Guy" which he would recite in living room performances for family members and neighbors. Thirty years later Paul finally moved to New York City from Hampton, Virginia to pursue his dream of performing comedy. Paul has honed his administration and audio video skills in some pretty diverse venues such as record stores and video stores, editing military training videos, television production for MTV and the Discovery Channel, owning his own UPS store and working for a fashion designer. When he's not holding down the fort at Edge, he can be found around the city performing with his improv team GLORY HAIM. Paul would also like you to know that he loves dogs, tacos, podcasts and rock music (but not necessarily in that order).
Sara Huber
Director of Finance
One day shy of her eighteenth birthday, Sara Huber made her way across the Hudson
River from New Jersey and settled into the place she always knew she was meant to be.
After graduating from NYU with a dual major in Economics and Journalism, Sara began
a career in the fashion industry, working alongside a then-unknown designer, learning
how to build an empire from the ground up. Through an eclectic resume of other roles,
Sara learned the ins and outs of bookkeeping, tax filing, international logistics, operations
and how to source just about anything. Replying to a temp ad one day, Sara was sent
from the agency directly to meet with Edge Studio Managing Director Andrew Warner
on site, then invited back to meet CEO David Goldberg the following day. Proving she
was meant to be a part of the team, she received a call with an offer just under 50 hours
after submitting her resume. Two months later, she became a permanent member of the
Edge family.
As perhaps the sole Edge Studio employee without a performance background, the only
chance of catching Sara on tv will be if she receives an invitation to compete on
Jeopardy! Until then, Sara enjoys doing the New York Times crossword puzzle (only on
Saturdays) and traveling around the world, from Finland to Fiji to France.
Sarah Glugatch
Director of Education
Sarah is a New York City-based theatre artist and educator, originally from the San Francisco Bay Area. She holds a BFA in Acting & Musical Theatre from Marymount Manhattan College, and most recently served as the Program Director at Broadway Workshop, where she created educational theatre programming for students of all ages. Along with serving as the Director of Education at Edge, Sarah is also co-producer of the Write Out Loud Project, where she collaborates with founder and Tony Award nominee, Taylor Louderman, to give opportunities to new musical theatre writers.
Sarah is thrilled to be a part of the incredible Edge Studio Education Team!
Shannon Mann
Education Advisor
Shannon graduated from SUNY Fredonia with a BFA in Acting & Communications. After moving to New York City, she studied with Edge which gave her insight to the dynamic nature of the entertainment industry.
As a professional entertainer, Shannon Mann brings first person experience to her work as an Education Advisor. She has participated in collaborative theater settings at FLAME in India, the Center for Creative Youth in Cape Verde and at Wesleyan University. She performs throughout New York City, and can be seen on film, TV and streaming.
Siobhan O'Loughlin
Community Relations & Social Media Manager
Siobhan O'Loughlin is a voice actor, performance artist, and social media enthusiast. She's traveled the world with her solo performances, emphasizing creating community in multiple ways: from intimate audiences of small numbers, to large lectures or group workshops, from behind the scenes at Edge Studio, to the front page of The Baltimore Sun, from organizing group meetups, to bringing people from all over together on a digital platform. Siobhan has been part of the Edge Team since 2016. She's excited to be currently deemed the Manager of all things Social Media (come on over and visit us on Facebook, Instagram or Twitter!) as well as Captain of the Edge Studio Alumni Group. If you're an aspiring, training, or full-time working voice actor, you're part of our Edge Family, and we want to welcome you.
Susanne Pinedo
Public Relations Coach
Locations: In Studio (NYC), Remote (Skype/Telephone)
As a publicist, Susanne has an infinite passion for providing top-quality, outside-the-box public relations and communications services. Originally from Miami, Florida, she re-located to New York in 2012, where she launched Pinedo Public Relations. Benefiting from her extensive background in theater, her firm specializes in generating publicity for members of the entertainment community, which means individual artists, groups, and theater/production companies. Thanks to her outstanding people skills, organizational expertise and never-ending drive, she quickly established herself as one of the busiest publicists for emerging artists. She has managed campaigns for Off-Broadway and Off-Off-Broadway and other productions in NY, DC, LA & DE.
Susanne believes that honesty, ingenuity, and progressive thinking are essential to crafting an effective communication strategy, and Susanne strives to honor this conviction in all of her work.
In addition to public relations coaching through Edge Studio, Susanne's credits include work for Off-Broadway, indie-theater and film productions such as: Broke Wide Open, Fried Chicken and Latkes, Andrew J. Nemr & Friends, D**********h, Doubles Crossed: The Ballad of Rodrigo, ALIVE!, The Scary, Right to Remain, Listen…Can You Hear Me Now?, A Little Potato and Hard to Peel, The Boy Who Would Be Captain Hook, The Road to High Street, And Scene…, A Woman's Journey to Walk Again, and the webseries, Ken.
An actor and playwright herself, Susanne holds a BFA in Theatre from Florida International University.